A brief exchange with the Ukrainian Ambassador to Switzerland
On February 24, 2023 we were invited to Bern to attend the one-year commemoration of the Russian invasion of Ukraine. Before the start of the main event, a small exhibition was presented showing images from the war. The whole thing was depressing and impressive at the same time. Then we were allowed to get a little insight into the cultural wealth of Ukraine. Among other things, the choir sang and read texts.
Ausserdem brachten unterschiedliche Vertretungen aus Politik und Gesellschaft ihre Unterstützung zum Ausdruck. Nach dem offiziellen Teil hatten wir noch die Gelegenheit mit der Botschafterin kurz zu reden und unser Engagement bzgl. der HSU zu beschreiben.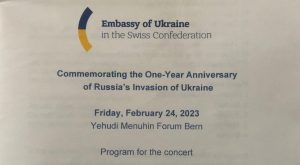 One year after the invasion - Memorial Day of the Ukrainian Embassy in Switzerland