Lugano is slowly but surely developing into an important meeting point for all people who are committed to Ukraine. In July last year, the Ukraine Recovery Conference was held there, and this year, on May 11-12, the Lugano Business Forum (Swiss-Ukrainian Edition) was held. Our Chamber of Commerce was also represented by Roman Oeschger. The forum offered some exciting panels and was well attended.
One year after the Ukraine Recovery Conference in Lugano, the Lugano Business Forum follows
The main focus of the event was the CAS on the reconstruction of Ukraine at the University of Bern. Courses are offered here to train Ukrainians for reconstruction. The importance of investors was also highlighted. There is still a certain reticence here. Consequently, it needs an increased effort. Finally, the importance of trust was also addressed and here, above all, there is great potential for our Chamber of Commerce. Trust, reliability and conviction play a central role for us in order to exploit opportunities.
Trust is the basis on which relations between Switzerland and Ukraine work best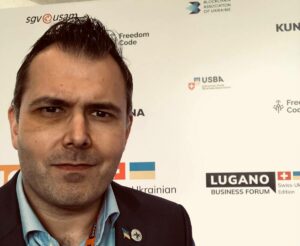 So all in all it was a good occasion and it should come as no surprise to anyone that this forum will probably take place again in 2024. Our Chamber of Commerce will also be there for sure. So see you again in Lugano!